Casa Chiesi Blog
Every year during the month of April, the city of Milan lights up for the famous Salone del Mobile (an event which is one of the highlights regarding Furniture Design for operators, clients, and diehard Design fans) that typically runs for 6 days.
This year the event was moved up to the first week of April in such a way as to let the poor souls decanter and head on out toward the Easter break which is an important Holiday break here in Italy. For me, this period typical revolves around a mad rush of getting digital projects out in time such as to highlight and shine the companies I have as clients so the stress level is quite crazy.
Once the projects are delivered I do get a chance to go out and visit installations that I did find of interest and which I would like to highlight below:
1. Invisible Outlines by Nendo
I was lucky enough to be able to see this fantastic exhibition by the designer Nendo even if the lines were running around 45 minutes to get in. In conjunction with the Jill Sanders showroom in Milan, space was transformed into a white oasis with an emphasis on the sharing a new way of envisioning objects. My favorite piece in the space was the Jellyfish Vases which consisted of transparent silicon vases inside a tank that oscillated and reacted to wave movements from inside a pump. Super proud to have my friend Tim Power involved in this exhibit.
Dezeen website account of the project
Short video from the installation
2. The Skin of the Architecture by PiuArch
In October of last year, I moved my studio towards the Brera area of town and I now have the pleasure of being next door neighbors with this creative studio that decided to cover the facade of the full-length wall with hanging flowers. This along with an exhibition of their works inside the studio created a flow of traffic in our courtyard which was a marvel to witness. Bravi!
The Skin of Architecture described on the Fuori Salone Magazine web site
Description of the project on the Forma Fantasma web site

In a nutshell my favorites!

Nazim
Last week we were in the wonderful city of Bologna since Nazim had some work related issues and I decided to come along for the weekend. During the Christmas Holiday while doing some brainstorming regarding interesting content that we would love to offer our blog visitors we came across the idea of doing highlights of our favorite Italian cities from the main center or so the so-called Piazza.
Since the center of each Italian town is the essence of which derives history, art and culture we came up with the name Casa Chiesi City Belly, (sounds like "siti belli" which in Italian means "beautiful places", quite a funny coincidence.)
So here goes the first pilot which we did on Facebook Live and now available also on our YouTube channel:
Hope you like it and please drop your comments and suggestions for the future shows!
Grazie Betti and Nazim
Due to the fact that Nazim was involved in the Bologna Arte Fiera project, we were happy to have VIP access to this year's manifestation. The Bologna Arte Fiera is one of Europes most important Art Fair which this year under the direction of Angela Vettese sees an updated edition (the 41st).
Together with our host and friend Mariah we spent a lovely day partaking of the worldwide art galleries proposals. Nazim wanted to purchase some Brian Eno artwork but the 21,000 Euro price tag was a bit too much. Above you can see the artwork that captured our attention this year.
Betti and Nazim
For more info visit the Bologna Arte Fiera at this link: http://www.artefiera.it/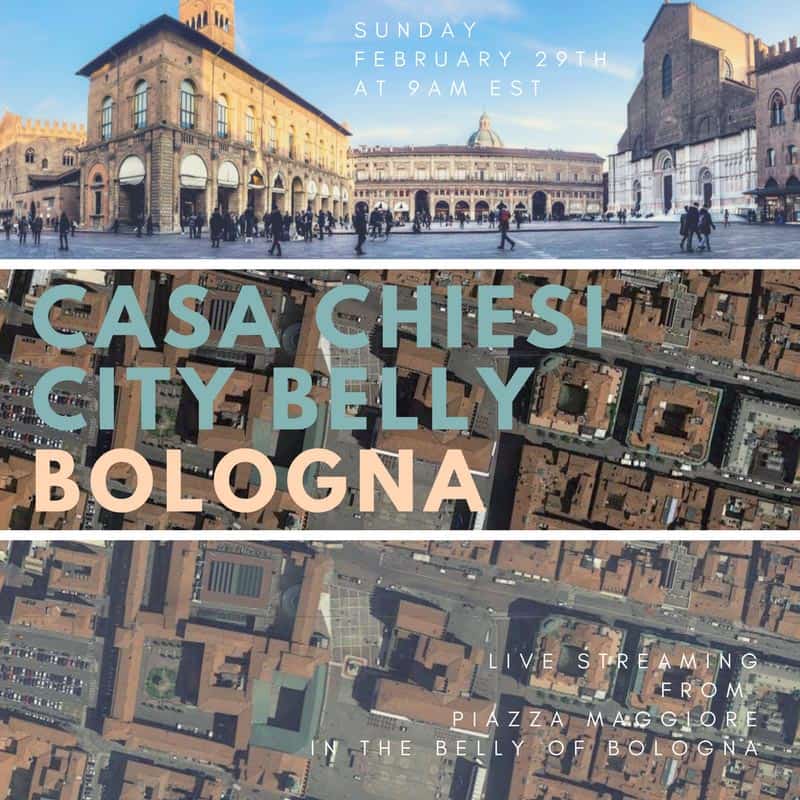 So during the Holidays, we did a lot of brainstorming regarding what we would love to do in 2017 as new features for Casa Chiesi.
As you all probably know we love to do and have been doing Livestreams for Casa Chiesi from diverse locations in Italy.
Well now comes a new Show concept that we are introducing with a test pilot run this Sunday: Casa Chiesi City Belly, a live stream which revolves from the center piazza (square) of our favorite Italian cities.
In this 20 minute format we will give you a 360° (hint…) view and analysis of the Italian city we are visiting from the center of each one (from here comes the reference to the Belly!) We would love for you to join us this Sunday at 9 am EST where we will be highlighting the wonderful city of Bologna and provide some feedback of the things that you would love for us to highlight.
These Livestreams are visible on our Facebook Page at this link
http://www.facebook.com/casachiesi
and we will also be featured on this website and YouTube channel
https://www.youtube.com/user/casachiesi
Kinda like bring the town center to your Living Room!
Betti and Nazim
Cappon magro is an elaborate and rich Genoese salad of seafood and vegetables over hard tack arranged into a decorative pyramid and dressed with a rich sauce.
The foundation of a cappon magro is a layer of hard tack biscuits ("gallette") rubbed with garlic and soaked in seawater and vinegar. Then a pyramid is built up layer by layer.
Each layer may consist of one or many vegetables, fishes, or seafood. All recipes include boiled white fish, a lobster, green beans, celery, carrots, beets, and potatoes. Some authorities insist that black salsify is essential. Other seafood and vegetables may also be included. Each ingredient is boiled separately, cut up, and seasoned with oil and vinegar. Each layer is dressed with a sort of cross between salsa verde and mayonnaise; it consists of parsley, garlic, capers, anchovies, the yolks of hard-boiled eggs, and green olives ground together in a mortar with olive oil and vinegar. The pyramid is topped with a lobster capped with its coral. The sides of the pyramid are garnished with green olives, botargo, capers, anchovy filets, crayfish, artichokes, and quartered hard-boiled eggs
Since we are visiting friends in Rome, we decided to do this quick video to thank everyone for your support in 2016 and wishing everybody a great 2017!
Love Nazim and Betti!