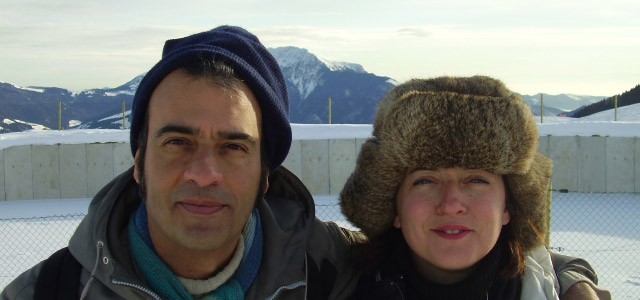 Welcome to the Casa Chiesi adventure! A site that focuses on all things related to an Italian Lifestyle from the point of view a couple living in Italy since 1992. Food, Travel, History, Fashion and any other things that come to mind are highlighted here via the Casa Chiesi ingredients section.
So who is involved in this Casa Chiesi effort? Great question! Obviously, there is always a path towards a mean and in our case, it all goes back in time…
Having met in Miami Beach back in 1991, Betti and Nazim stumbled upon each other thanks to the coincidence of Betti traveling to the wedding of her dear friend Tosca Radigonda in San Francisco. You can say that life has its surprises and yes the fact that Betti decided to stay in Miami while Tosca was there contributed to them meeting at a common party! And such from which sprang a wonderful love story.
As the couple moved to Milan, Italy, the contact with Tosca was strong and a common project developed in time: Eating Heart (www.eatingheart.com), a beautiful stories/recipe book with wonderful photos and graphics.
And from there comes the next chapter in the adventure: Casa Chiesi! A place to discover Italy from our point of view along with the wonderful photographic contribution of Tosca Radigonda and Zoe Beltran (our daughter who is starting out and has a keen eye…yes, we are a bit biased!)
Casa Chiesi are:
Elisabetta Chiesi
I was born and raised in Milan, Italy, and have been a make-up artist in the fashion industry for nearly three decades. I love my job which has offered me the opportunity to travel all around the world and which also gave me the chance to fulfill two of my main desires in life: changing the horizon and to be surrounded by beautiful things. I don't need to be a luxuriously dressed model nor live in a Gothic cathedral … I just need to know that I have this close to me.
I have had the good fortune of living in a country that is rooted in beauty and would like to share the lesser-known aspects and the most curious ones of such an experience through Casa Chiesi.
Nazim Beltran
My story is full of uprooting. As a global nomad I met so many worlds and ways of living, languages ​and suffering but Italy kindly welcomed me with its charms and its contradictions. Anyone who has lived in this country retains an intense vivid memory intermixed with a small dose of regret when they tell their story. For me, this small piece of land is a continuous discovery and has managed to capture even a stateless person like me.
Tosca Radigonda
A close and dear friend of the Chiesi family (and the reason we got to meet) Tosca has lived in Italy during the hay days of fashion. A renowned photographer with an impressive portfolio of clients we are honored to have her assistance with her beautiful photography
Check out her website here :www.toscaradigonda.com
Zoe Beltran
Fresh out of High School and with a keen photographic eye, our daughter has joined the team.
Curious, delicate and with a passion for this country, which is constantly, in contrast, we are proud to have her as part of our team.
My dear friends on Google+
Obviously in our effort we consider our friends on Google+ to be part of the Casa Chiesi project. A shout out to those friends who have been very supportive towards this new adventure and please go check out their profiles:
Mia Voss
Chef Dennis Littley
Wayne Nix
Jeff Sieh
Martin Shervington
Larry Fournillier
George Cohn
Marilyn Ritter
Ronnie Brincer