Mushroom Hunting in the Italian Woods
Roughly 13 years ago we had the fortune of coming across a small abandon country house up in the town of Ca Bazzari (Bazzari) which is our paradise for relaxation when the city of Milan gets to be a bit too much. A small old three-story barn with a patio and no landscaping to deal with but which offers wonderful views of the Val Tidone valley which is considered quite close to the Tuscan hills in beauty and nature (with less tourist!)
Right behind our house is a vast wood area which is covered with Chestnut trees (that tend to arrive in October) that provide fertile ground for the growth of Mushrooms (especially of the Porcini variety). We constantly stumbled upon our neighbor's descriptions of how many Mushrooms they had found in the past years but in our constant walks in the woods the constantly ran into mushrooms that when we brought them into town they were the joke of the town and suggested to use as poisonous solution to get rid of the spouse. Betti obviously did not appreciate.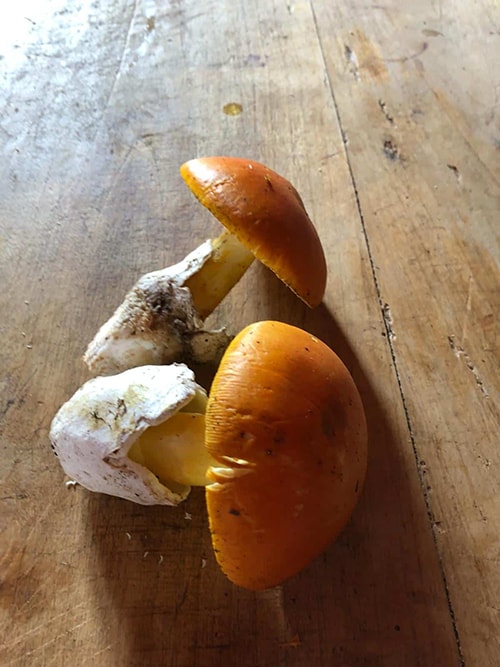 This weekend she decided to put a stop to that and dragged me into the woods in search of the always elusive Porcini mushroom. I suggested we try to go as far up and away from the main paths as possible and with Betti guiding the way we stumbled upon a whole field of diverse mushroom from which immediately Betti saw these orange colored variety called Ovuli which are way more rare than the Porcini mushrooms and hard to find.
Upon re-entry from the woods, we brought our bag of mushrooms which obviously contained the typical set of poisonous-looking Porcini but included in the pack we had these two gems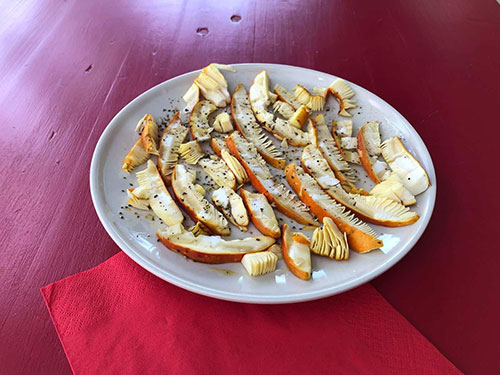 This time Ms. Fernanda and the local mushroom experts dropped their jaws and told us that they are the hardest to find since they are considered a delicacy which gathers a price of 50 euro per kilo!
Betti immediately got on the phone with her Mom to inquire on how to cook them and the final conclusion was just to brush off the dirt, slice them thin and pour a touch of olive oil and lemon drops over them and to dispense of them raw. A true delicate taste and a great way to put a highlight on the weekend.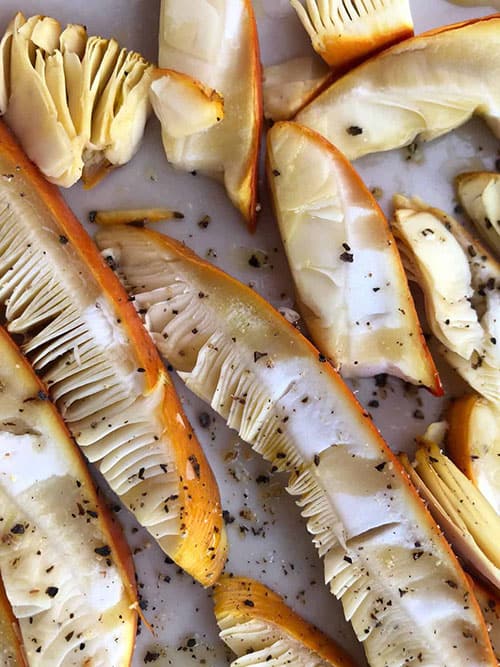 Nazim