The Last Supper by Leonardo da Vinci : Our review of City Wonders Tours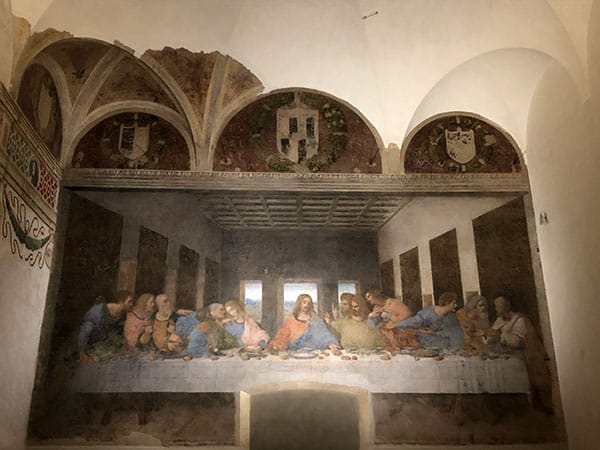 In this not that many times that one gets a chance to explore his own city from the point of view of how a tourist from abroad would see it so obviously when we received a wonderful invitation from the folks at City Wonders Walks to partake of their Milan City Highlights walking tour we were super excited to join.
Ellen Curtin from City Wonders had set us up for a visit on November but Betti's fashion work got in the way and we had to reschedule for December 8th (Ellen was marvelous in being flexible with our schedule and since this is one of their bestseller tours was able to find a gap in December…grazie mille Ellen!).
City Wonders Tours offers a series of walking tours through the major cities in Europe and when we were contacted we immediately concentrated on Italy (obviously being Italian Lifestyle bloggers) and we were super impressed with the offerings that cover the golden boot! Another amazing fact that we discovered is that they are the only Official Vatican Partner to offer special tours of the Pope's residence and adjoining museums! Definitely bucket list material for Casa Chiesi!
Living in Milan we told Ellen that we would love to cover one of the Milan based one's so we opted for the "Best of Milan Duomo Cathedral & Da Vinci's 'Last Supper' Tour!"
The main reason was the fact that the last time we had visited the "Cenacolo" (as they call "The Last Supper") was prior to the famous restoration of 1995. Plus for those of you who know it is super hard to get tickets on the same day to visit since they are usually sold out months prior to any sort of scheduling idea you might have in mind. In fact, when our friends mention that they would like to see it on the fly we tend to laugh and opt-out for a nice lunch at a restaurant or a visit to the Castle or Duomo. These along with tickets to La Scala are the hardest ones to get!
Our tour was set up for a 2.30 pm appointment at the famous Milan Duomo which we have covered in this prior article. Also, check out our live stream from the top of the church when we started our blog back in 2014.
When we reached the destination we were greeted by the staff of City Wonders who started out by handing over the wireless audio repeaters which hook up to the guides wi-fi mic so you can follow the tour in perfect audio comfort and without the need for someone shouting out or everyone gathered in a close circle which we tend to dislike from previous tour experiences. Brilliant!
Our guide Katerina Panayotova started this tour by preparing us to enter the Duomo which on this particular Sunday was packed due to the fact that it was the famous Saint Ambrose religious Holiday. We took a look at the line and started to get concerned only to have our fears dispelled since the tour permits you to skip the lines both at the Duomo and The Last Supper! Sweet!
Once inside Katarina left us impressed with the way she described the history behind the famous Duomo highlighting the famous story of the nail of the crucifixion stored way about the main plateau and additional historical facts surrounding the artwork inside and the history behind the origin of this impressive church. A precise and fantastic storytelling approach made for a super interesting way of presenting these historical tidbits. And her timing/transitions on all that was described could not have been better!
Once we exited the Duomo we proceeded to make way through the main crowds through the Galleria Vittorio Emanuele (the World's first Shopping Mall dating back to 1877) on our way to The Brera district passing by La Scala and Castello Sforzesco (which is the castle close to where we live!)
Our set appointment at Leonardo's The Last Supper was at 5.15 pm so we had to make headway so as to not miss out on the entrance time which is limited to small groups and in which you are only permitted to be inside for 15 minutes.
Once inside Katerina went into detail regarding the presence of symbolic imagery in the painting that I was not personally aware of and that an expert like her expressed in an entertaining and non-stuffy way! (I was accustomed to tours where you feel you are in a rigid school class non-fun approach but this was far away from that!).
Here is a short video that gives you an idea of how the tour went so you can get the glist of it
In conclusion, a fantastic way to spend a Sunday afternoon with an extremely organized company w that shows you Italian historical gems bypassing extreme lines, potential frustrations and tour guides that offer a wonderful approach towards the sites one encounters! We are looking forward to highlighting some other ones in the coming year!
For more information here is their web site and Social Media links:
City Wonders Web Site links:
https://darkrome.com/vatican-partnership
https://darkrome.com/
https://darkrome.com/milan-tours/last-supper-tours
Facebook: https://www.facebook.com/DarkRomeTours/
Twitter: https://twitter.com/City_Wonders
Nazim