Art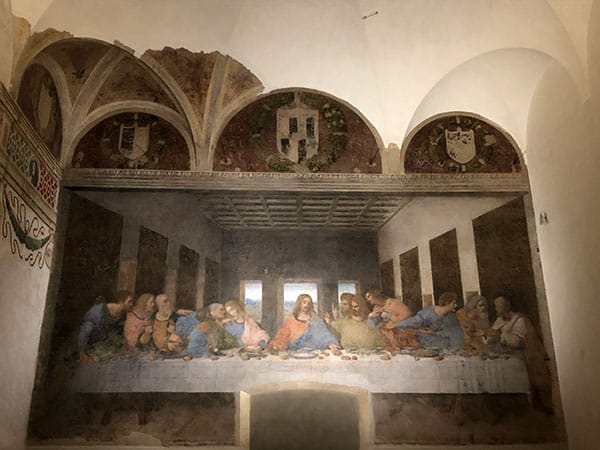 In this not that many times that one gets a chance to explore his own city from the point of view of how a tourist from abroad would see it so obviously when we received a wonderful invitation from the folks at City Wonders Walks to partake of their Milan City Highlights walking tour we were super excited to join.
Ellen Curtin from City Wonders had set us up for a visit on November but Betti's fashion work got in the way and we had to reschedule for December 8th (Ellen was marvelous in being flexible with our schedule and since this is one of their bestseller tours was able to find a gap in December…grazie mille Ellen!).
City Wonders Tours offers a series of walking tours through the major cities in Europe and when we were contacted we immediately concentrated on Italy (obviously being Italian Lifestyle bloggers) and we were super impressed with the offerings that cover the golden boot! Another amazing fact that we discovered is that they are the only Official Vatican Partner to offer special tours of the Pope's residence and adjoining museums! Definitely bucket list material for Casa Chiesi!
Living in Milan we told Ellen that we would love to cover one of the Milan based one's so we opted for the "Best of Milan Duomo Cathedral & Da Vinci's 'Last Supper' Tour!"
The main reason was the fact that the last time we had visited the "Cenacolo" (as they call "The Last Supper") was prior to the famous restoration of 1995. Plus for those of you who know it is super hard to get tickets on the same day to visit since they are usually sold out months prior to any sort of scheduling idea you might have in mind. In fact, when our friends mention that they would like to see it on the fly we tend to laugh and opt-out for a nice lunch at a restaurant or a visit to the Castle or Duomo. These along with tickets to La Scala are the hardest ones to get!
Our tour was set up for a 2.30 pm appointment at the famous Milan Duomo which we have covered in this prior article. Also, check out our live stream from the top of the church when we started our blog back in 2014.
When we reached the destination we were greeted by the staff of City Wonders who started out by handing over the wireless audio repeaters which hook up to the guides wi-fi mic so you can follow the tour in perfect audio comfort and without the need for someone shouting out or everyone gathered in a close circle which we tend to dislike from previous tour experiences. Brilliant!
Our guide Katerina Panayotova started this tour by preparing us to enter the Duomo which on this particular Sunday was packed due to the fact that it was the famous Saint Ambrose religious Holiday. We took a look at the line and started to get concerned only to have our fears dispelled since the tour permits you to skip the lines both at the Duomo and The Last Supper! Sweet!
Once inside Katarina left us impressed with the way she described the history behind the famous Duomo highlighting the famous story of the nail of the crucifixion stored way about the main plateau and additional historical facts surrounding the artwork inside and the history behind the origin of this impressive church. A precise and fantastic storytelling approach made for a super interesting way of presenting these historical tidbits. And her timing/transitions on all that was described could not have been better!
Once we exited the Duomo we proceeded to make way through the main crowds through the Galleria Vittorio Emanuele (the World's first Shopping Mall dating back to 1877) on our way to The Brera district passing by La Scala and Castello Sforzesco (which is the castle close to where we live!)
Our set appointment at Leonardo's The Last Supper was at 5.15 pm so we had to make headway so as to not miss out on the entrance time which is limited to small groups and in which you are only permitted to be inside for 15 minutes.
Once inside Katerina went into detail regarding the presence of symbolic imagery in the painting that I was not personally aware of and that an expert like her expressed in an entertaining and non-stuffy way! (I was accustomed to tours where you feel you are in a rigid school class non-fun approach but this was far away from that!).
Here is a short video that gives you an idea of how the tour went so you can get the glist of it
In conclusion, a fantastic way to spend a Sunday afternoon with an extremely organized company w that shows you Italian historical gems bypassing extreme lines, potential frustrations and tour guides that offer a wonderful approach towards the sites one encounters! We are looking forward to highlighting some other ones in the coming year!
For more information here is their web site and Social Media links:
City Wonders Web Site links:
https://darkrome.com/vatican-partnership
https://darkrome.com/
https://darkrome.com/milan-tours/last-supper-tours
Instagram: https://www.instagram.com/citywonderstours/
Facebook: https://www.facebook.com/DarkRomeTours/
Twitter: https://twitter.com/City_Wonders
Nazim
Who has not dreamed of a traveling cottage able to protect us like a snail shell snail from the elements and able to take us to the most exotic and faraway places, maybe without a circulation permit, car insurance or monthly car payments?
From June 30th to September 9th at the Tadini Academy in Lovere is open the exhibition entitled "Lo squardo del viaggiatore", which narrates the journeys and the work of Giorgio Oprandi: the artist who introduced colonial Africa to the Italians but perhaps the most interesting thing on show in the exhibition is the car that accompanied him on all his travels.
Oprandi was a painter and an explorer born in Lovere who was the precursor of those artists that, at the beginning of the '900, painted landscapes and inhabitants of the Italian overseas possessions.
He was a solitary traveler who toured between deserts, cities, and colonies of Africa with his Fiat 503 equipped with a 16-horsepower petrol engine, that was modified to be equipped with a kitchen and a room, containing all the tools of the craft colors, brushes and canvases.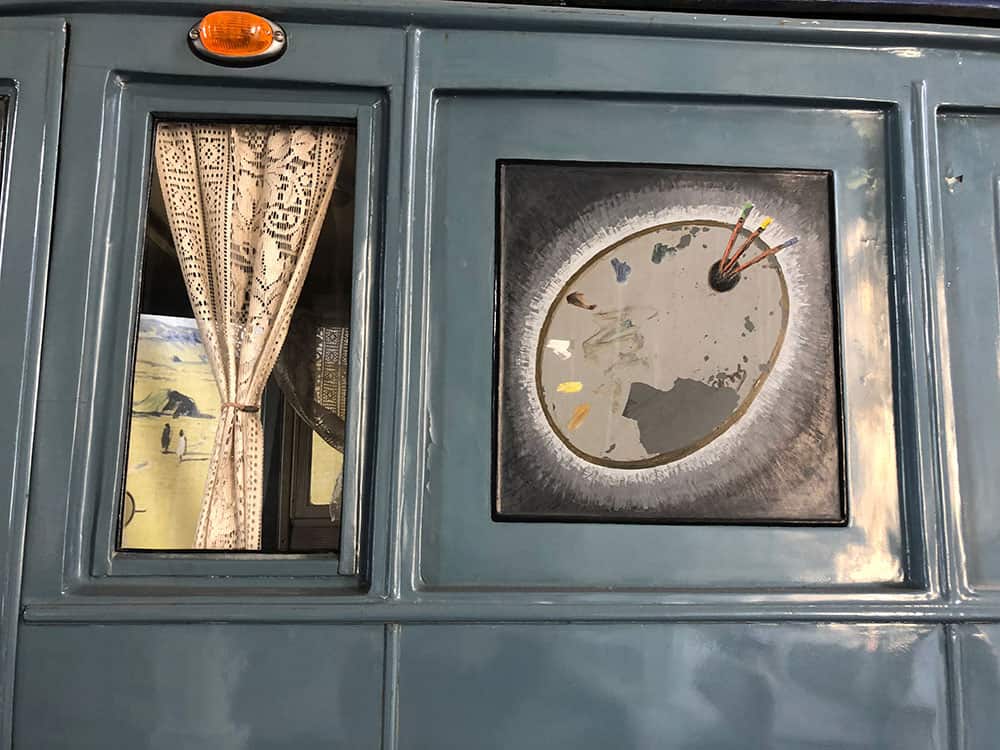 It is almost impossible to follow the traces of his uneasy wanderings: only the titles of the paintings and sketches give us the geographical coordinates of the artist's nomadism.
After more than twenty years of traveling between Africa, Albania, and Italy, in the fifties, the historic vehicle was replaced with a second prototype: a Fiat "Giardinetta" equipped with a special framework on which, once the hood has been lowered, a tent could be mounted.
A careful restoration of the first original car welcomes visitors to the exhibition: browsing inside the cockpit you can try to imagine the spirit of adventure and freedom of this artist and his romantic existence.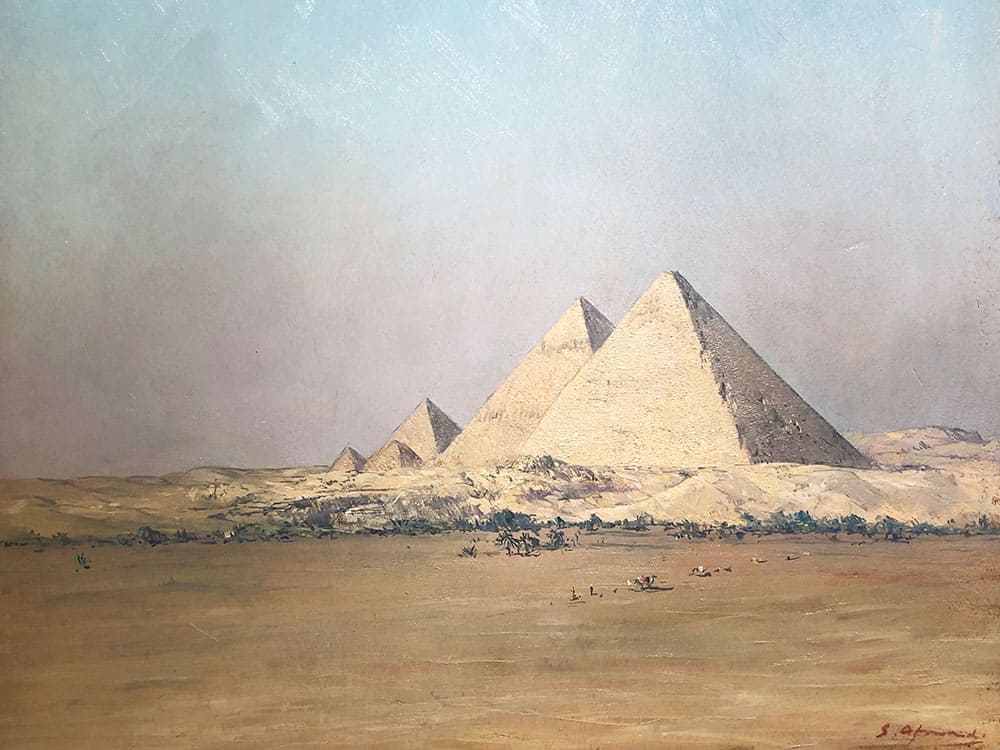 But in a future date, we will come back to this town overlooking Lake Iseo because it still has many stories to tell.
Nazim
Every year during the month of April, the city of Milan lights up for the famous Salone del Mobile (an event which is one of the highlights regarding Furniture Design for operators, clients, and diehard Design fans) that typically runs for 6 days.
This year the event was moved up to the first week of April in such a way as to let the poor souls decanter and head on out toward the Easter break which is an important Holiday break here in Italy. For me, this period typical revolves around a mad rush of getting digital projects out in time such as to highlight and shine the companies I have as clients so the stress level is quite crazy.
Once the projects are delivered I do get a chance to go out and visit installations that I did find of interest and which I would like to highlight below:
1. Invisible Outlines by Nendo
I was lucky enough to be able to see this fantastic exhibition by the designer Nendo even if the lines were running around 45 minutes to get in. In conjunction with the Jill Sanders showroom in Milan, space was transformed into a white oasis with an emphasis on the sharing a new way of envisioning objects. My favorite piece in the space was the Jellyfish Vases which consisted of transparent silicon vases inside a tank that oscillated and reacted to wave movements from inside a pump. Super proud to have my friend Tim Power involved in this exhibit.
Dezeen website account of the project
Short video from the installation
2. The Skin of the Architecture by PiuArch
In October of last year, I moved my studio towards the Brera area of town and I now have the pleasure of being next door neighbors with this creative studio that decided to cover the facade of the full-length wall with hanging flowers. This along with an exhibition of their works inside the studio created a flow of traffic in our courtyard which was a marvel to witness. Bravi!
The Skin of Architecture described on the Fuori Salone Magazine web site
Description of the project on the Forma Fantasma web site

In a nutshell my favorites!

Nazim
Due to the fact that Nazim was involved in the Bologna Arte Fiera project, we were happy to have VIP access to this year's manifestation. The Bologna Arte Fiera is one of Europes most important Art Fair which this year under the direction of Angela Vettese sees an updated edition (the 41st).
Together with our host and friend Mariah we spent a lovely day partaking of the worldwide art galleries proposals. Nazim wanted to purchase some Brian Eno artwork but the 21,000 Euro price tag was a bit too much. Above you can see the artwork that captured our attention this year.
Betti and Nazim
For more info visit the Bologna Arte Fiera at this link: http://www.artefiera.it/
If you happen to pass by Malpensa Airport on your vast travels you might just happen to stumble upon an exhibition of our dear friend Andrea Rovatti regarding food, buildings and friends. Obviously, when he asked me to pose for one of the portraits at the show I could not imagine what the final photos would look like. When a friend asks you to bring your favorite gold jacket (the one you used for your wedding on Miami Beach 23 years ago!) and then to pretend that two mandarin fruits could be earphones…well I was quite confused!
Today was the opening of this show and I have to say that I am delighted to have been a part of it. By the way, that gold jacket that I am wearing is starting to be a kind of icon in town. Friends have asked me to lend it to them, wear it when I go on stage at the Don't Tell My Mom storytelling event or just to bring it along when we have an aperitivo. Maybe I should seriously consider renting it out!
If you happen to pass by Malpensa Airport here is more info on the show:
Portraits of Milan Malpensa Exhibition info
We are super pleased to announce that our dear friend and radio personality Matteo Caccia is currently involved in a new program on Rai Radio 2 called "Una vita" which for the first time ever is available as an English version on the Itunes Store. This is a weekend (Saturday and Sunday) program which will last 6 months and revolves around the diverse phases of a life of a person by way of story telling at its best:
A trip to the age of each of us .
From zero to one hundred years.
Every human being is different from another, but the stages of life are similar for all.
The birth, the first memories, the school, the first kiss, the exams, the decisions to be taken, ends, the first changes, the work does not arrive and then finally, yes, the love that matures, the losses, the work ends, life as it is.
By way of Storytelling and mixed with documentary material that tells the story of twenty-five different people who are going through life in twenty-five different ages of their lives.
A journey of six months which revolves around who we were, what we are and perhaps what we will become.
Starting from zero and going to the end.
Different ages, different people, one life.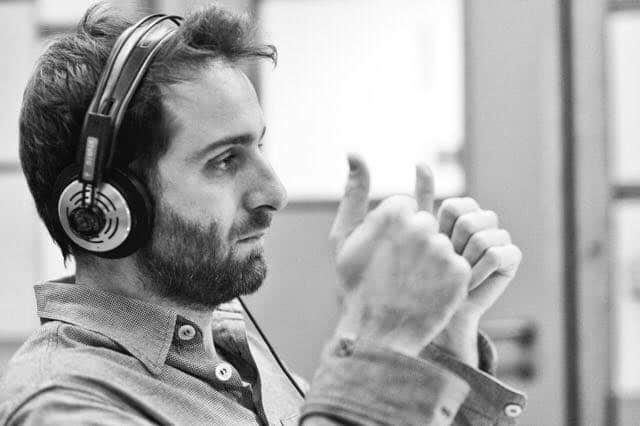 Una vita (a life) is a program created by Matteo Caccia, Tiziano Bonini, Mauro Pescio, Chiara Biffi. Conducted by Matteo Caccia on Radio Rai 2, directed by Guido Bertolotti and curated by Renzo Ceresa
Transmitted live in Italian Saturday and Sunday from 7pm till 7.30pm on Radio2 Rai.
The English version of the program in podcast here:http://unavita.blog.rai.it/english-podcast/
Last night I had the pleasure and joy of watching this wonderful documentary (directed and co-written by my dear friend Carlo Sigon) on a great soccer player from Argentina called Javier Zanetti. Their was a live satellite hookup in major theatres across Italy.
The movie is not your typical sports documentary since there is a parallel story of a fictional Argentinian writer that narrates the dreams and struggles of a young kid from the Buenos Aires all the way up to his arrival in Milan and the vast years as captain of F.C Inter of which he is currently Vice-President. He retired from active soccer play last year.
The great news as I wake up this morning is that Carlo called me up to tell me that the movie was the top box office hit across the whole country for a one day showing competing with the likes of Birdman and the Sponge Bob movie.
I know the amount of effort and work that Carlo put into this movie (extensive interviews with stars such as Lionel Messi, José Mourinho, Roberto Baggio,etc) Location filming both in Argentina and Italy. Great story with fantastic footage and photography.
Congratulations my friend! You deserve it!
Nazim
Additional clips:
Final game and goodbye:
Gol Highlights: